Animal Communication, Herbology, Flower Essences, and Homeopathic First Aid for Animals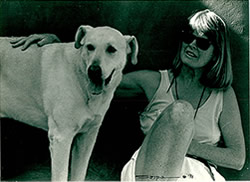 Welcome, I'm Leta Worthington.
I am from New Mexico where I practice animal communication and herbology and do private consultations by phone through Hill Country Herbs and Animals. I also teach courses in animal communication, flower essences and herbal remedies as well as a veterinarian-approved homeopathic first-aid class for animals. You can visit my website at http://www.herbsandanimals.com for more information.
About Leta Worthington
Leta Worthington has spent the last 15 years training in the fields of herbology and animal communication, and in other related areas as well. She has studied extensively with Penelope Smith and Jeri Ryan in animal communication, and with well-known herbalist and author Matthew Wood. Leta has studied basic homeopathy with veterinarians Dr. Madalyn Ward and Christina Chambreau, and teaches a veterinarian-approved, first-aid-for-animals homeopathic workshop.
She completed instructor training in animal communication with Penelope Smith and is listed in Penelope's International List of Telepathic Interspecies Communicators. In the late 1980's, Leta trained with Linda Tellington-Jones, attaining the first practitioner level of T.E.A.M.
Her practice includes all kinds of animals, plants, and nature spirits, and she collaborates with several holistic veterinarians.
Other aspects of Leta's background, including certification in language and learning disabilities, human resources and veterinary tech work, give her a unique combination of knowledge and skills with which to help both humans and their companion animals.
Leta lives and works at Sol and Cielo Ranch in New Mexico with her large family consisting of many different species where she helps countless animals and their owners in her capacity as a skilled animal communicator. In addition she uses flower essences, herbology and homeopathic techniques to heal a variety of animals. Leta teaches classes in animal communication, flower essences, herbal remedies and veterinarian approved homeopathic first aid.